A look at what came in the mail this week with quickie reviews ...
Blue Oyster Cult - Secret Treaties
- BOC's third album is like the best parts of their first two combined, creating a more fully developed and mature overall sound to the record. There are more boogie and funk elements than the proto metal / biker rock of their first album but there are still some fine wisps of the heavy stuff that typically manifests itself in punkier moments. The band's slower, more whimsical side also gets a good workout in "Astronomy", a precursor to "(Don't Fear) The Reaper" from their next album. Highlights include "Career of Evil" and "Flaming Telepaths".
Rating
- 4.5/5
Captain Crimson - Dancing Madly Backwards
- This is one of my favorites of the year, as evidenced by
my raving review of the album
. "Lonely Devils Club" and the title track are two of the catchiest songs of the year. The whole album is replete with monster riffs and balls out performances from front to back. There was a ton of 70s inspired music this year and a lot of it was great, but few could match the energy of Captain Crimson. Highlights include "Wizard's Bonnet" and "True Color".
Rating
- 4.5/5
Hawkwind - Space Ritual
- I normally don't like live albums and steer clear of them, but I mean, come on, this is 'Space Ritual'. I had to give it a go. First thing I was struck by was the high quality of the recording, it sounds better than most live recordings, probably from some studio touch ups. Each song gets the Hawkwind treatment and beyond, extended jamming and some of the improvised tracks are really killer. Listen to this, you'll wish you'd have been there. The album title doesn't lie. Highlights include "Born To Go" and "Upside Down".
Rating
- 4.5/5
Them - Now and Them
- This is the first of two excellent psychedelic albums by the post-Van Morrison incarnation of Them. There were a lot of former hitmaking bands and artists that were making the switch to psychedelia at the time, Them's pair of efforts are probably among the most obscure or, dare I say, overlooked. Most of this album is very bluesy with a small handful that would qualify as pop psych, such as the Alice in Wonderland inspired "Walking in the Queen's Garden". "Square Room" is a wonderful sitar freakout. Great stuff. Highlights include "Walking in the Queen's Garden" and "Square Room".
Rating
- 4/5
Vanilla Fudge - Renaissance
- Vanilla Fudge's third album is their most accessible. 7 tracks (+3 bonus tracks on the CD), most of them self-penned, the songs are shorter, while still revealing a high level of thoughtfulness and artistry, but let's just say the band doesn't go overboard as in their first two albums. At least not until the closing track, which just happens to be the longest song and the sole cover version, Donovan's "Season of the Witch". It's a good recording, very much of its era and if I was Donovan, I would have loved the rendition. Highlights include "All In Your Mind [bonus track]" and "Faceless People".
Rating
- 4.5/5
And ...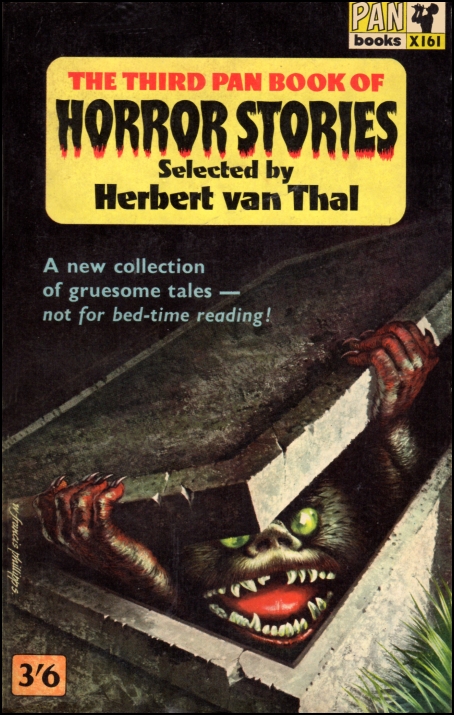 Not music, I know, but a book that helped inspire some great artists who made some great music.
The 8th Pan Book of Horror Stories selected by Herbert Van Thal
(1967) features a story called "Sad Road To The Sea", which was almost certainly the inspiration for the title of the Leaf Hound song of the same name. Peter French, singer of Leaf Hound has often mentioned in interviews how the titles of the stories in some of these books inspired him to write his own lyrics (that had little to nothing to do with the actual story itself). Being a gigantic nerd I had to check these out for myself. I can't wait to read it. I also picked up
The 3rd Pan Book of Horror Stories selected by Herbert Van Thal
(1962), which features less contemporary fiction and more classic tales by the all-time greats like Poe, Blackwood, Faulkner, Wells and others. Great stuff. I plan on filling out a complete collection of these anthologies. Pan always had the best looking covers too.