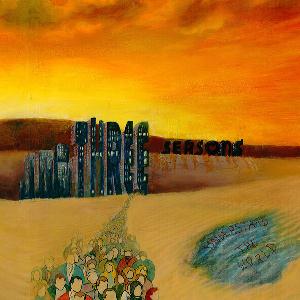 Three Seasons is a three piece progressive rock band from Sweden who play it old school. Understand the World is their second full-length album, released on Transubstans Records.
Opening track "Set In Stone" firmly establishes the band as modern day prog peddlars with plenty of odd time signatures, effect-laden vocals and organ freakouts. The band plays the freshest and best brand of uncompromisingly heavy prog this side of 1971. In truth, Three Seasons plays some of the most authentically early 70s sounding rock out there.
"Searching" is simply one of the best discoveries of the past month or so and one of the better songs of the year. The band lays out a hard rock riff along the lines of classic Leaf Hound or Captain Beyond, heavy with stop-start funk, before slowing their step a touch for a slow groove that builds subtly back to the main riff to close the song out. This song is destined for great things in the Doom Charts. "I Would Be Glad" is another heavy highlight.
Not content however to just stick to one style, the band shows plenty of versatility and variation throughout the disc, as evidenced by "Far As Far Can Be" which brings out the band's more intimate and softer side, a side of the band that will come to dominate most of the middle of the record. Three Seasons do understand dynamics by slowly building back up to a hard rock finish. Though they show a great flare for the proggy dramatic, the band is more than a cobbled together collection of odd timings and organ swells, there is a genuine catchiness to many of the songs. "Ain't Got Time" is proof of that as I guarantee the line "Deep Down in the Hole" will get caught in your head after a couple of plays. Be forewarned.
They don't waste time either, never losing control over their compositions. At just a pinch under 8 minutes, the title track is the longest song on the album and this is due more to it being played at a slower tempo than it having gone pear shaped and unwieldy from being over written. They do have a penchant for writing longer songs, and they are all highly structured and they have left room for themselves for soloing and improvisation, but overall, they are highly structured songs.
The album closes in fine fashion with "Can't Let Go", the band getting back to the hard rock groove that had been established early on in the album. The song also features a great Chuck Berry-like guitar solo in the middle, that is a true solo by the strictest definition, meaning unaccompanied. The other instruments jam back in for a big finish.
It's safe to say the band knows what they're doing and they do it in a controlled, directed manner. That said, there's still a lot of 'feel' to the playing and a sense of fun. In other words it's not one of those stuffy prog albums that takes itself too seriously, but it is something that a lot of hard work went into.
Highlights include:
"Searching" and "Set In Stone"
Rating:
4/5
Tracklist
1). Set In Stone (6:23)
2). Searching (5:09)
3). Far As Far Can Be (6:40)
4). Ain`t Got Time (7:12)
5). Understand The World (7:59)
6). I Would Be Glad (5:04)
7). Maria (7:23)
8). Can't Let Go (7:15)
Total Run Time: 52:58
From:
Sweden

Genre:
Progressive Rock, Hard Rock, Blues
Reminds me of:
Deep Purple
,
Heat
,
King Crimson
,
Leaf Hound
,
Motherlight
,
Owl
,
Vinum Sabbatum
Release Date:
November 14, 2012
Suggested listening activity for fellow non-stoners:
hiding in the rushes, waiting for the world to hatch
GET IT HERE