Revelation are veterans of the genre. Forming in the mid eighties as a traditional doom metal band and naming themselves after the Trouble song, the band has gradually become more progressive with the passing of time. For twenty years or more they have been a bright light in the vibrant Maryland doom scene, Inner Harbor is their seventh full-length album and first since 2009's 'For the Sake of No One'.
'Inner Harbor' opens with some groove, a nice funky riff that puts a glide in the stride and a dip in the hip, before spilling out onto the slow and fat doomy riff that closes the title track. This is how Revelation operates, they let the funk flow like maple syrup, never straying too far from their doomed roots.
John Brenner's keyboards take songs such as "Terribilita" and "Rebecca at the Well" to a time and place when bands were trying to update their sound and take rock music in a more progressive direction. Ironically, these effects more often than not dated those old albums severely but it gives Revelation's music a distinctly retro flavor. This isn't a bad thing. The two tracks mentioned above in particular stand next to Black Sabbath's 'Sabotage' in terms of quality and at other times reminding of Pink Floyd's 'Wish You Were Here' album in terms of texture and tone. The keyboards on "Jones Falls" tends to remind me of the keyboards on Sabbath's 'Never Say Die' album, having that same surprising, striking counterpoint feel. That's just the thing with the keys on this album, they are used as counterpoint and never drive the song, they get their time in the sun but never end up overshadowing, however because of their striking nature and vibrant tone the keys leave a long-lasting impression.
"Rebecca at the Well" is one of the heaviest songs ever, made more so by the fact that it's surrounded by five songs that rely less on heaviness and more on competent and intelligent playing, dynamics and quality to get their point across. This song's got those factors in spades as well and is a true standout. Overdosing on low end rumble, the listener is taken to chambers of melodic tritone leads and tension building prog dungeons that have more than a touch of Dawn of the Dead (1978) feel, all in one song that never loses sight of its starting point.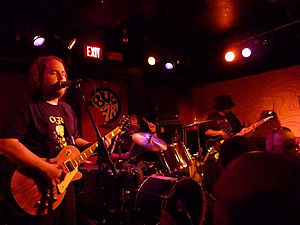 I first heard "Rebecca At the Well" on the Soggy Bog of Doom podcast way back in September. It's hard to believe it was over a half a year ago. Heavy, proggy and adventurous, it's not off the mark to say that all six songs on 'Inner Harbor' deliver 70s worship in a satisfying way, framed in doomy riffs and lazy melody. This album originally came out as a digital download in early October on
Bland Hand Records
, but has finally been released on CD by the good people at
Shadow Kingdom Records
. This album is loaded with 70s groove and proggy soundscapes. For doom heads who are also lovers of the most hirsute decade of all time and its soundtrack, this album can't be missed, there's no two ways about it.
Highlights include:
"Rebecca At The Well" and "Terribilita"
Rating:
4/5
Total Run Time: 35:01
Steve Branagan - Drums
John Brenner - Vocals, Guitar, Keyboards
Bert Hall Jr. - Bass
From:
Baltimore, Maryland

Genre:
Prog, Doom
Reminds me of:
Black Sabbath, Blizaro, Pink Floyd
Release Date:
April 30, 2013
Suggested listening activity for fellow non-stoners:
Shadow shamblin' and groove struttin'.

Better Review:
The Obelisk
Temple of Perdition
The Sleeping Shaman
Last Rites
Revelation on Encyclopedia Metallum
Revelation on facebook