A look at what came in the mail this week with quickie reviews ...
Last week was kind of slow for discovering new music and I kind of over compensated for it on the weekend by catching up on some older stuff that I missed. Then I found a bunch of new stuff that I had missed and more stuff came in the mail than I had originally anticipated. So this week I was completely awash in new music. In addition some labels and bands have started to send me stuff that wasn't even on my radar (which I thank them profusely for) so now I'm pretty backed up. Then to top it all off, I got flooded with CDs in the mail way later in the week than I would have liked. Some of these discs I haven't been able to get to yet, so some of the 'reviews' aren't exactly reviews as much as 'notes', but it's been a great week for music here and a great week for Paranoid Hitsophrenic (
check out my interview with ICHABOD
) ...
Abrahma - Through the Dusty Paths of Our Lives
- One of a trio of Small Stone albums that came in all on the same day, discovering this album has been a true pleasure. The long Vodun suite comprising 8 tracks and some 30 minutes is a mini album within an album and is a real highlight but the non Vodun suite tracks are just as good and stand on their own. Highlights include "Vodun pt. 2: I, Zombie" and "Big Black Cloud".
Rating
- 4.5/5
Arkham Witch - Legions of the Deep
- I discovered this terrific band on Youtube quite a while ago and spent months trying to track down a copy of their debut album 'On Crom's Mountain'. Luckily, I no longer needed to do so immediately as news came down they were releasing a brand new album. I pre-ordered this sucker without hearing a note of it because I had faith in this band and after what felt like forever, it finally arrived in the mail on Monday. Review to follow. Highlights include "Infernal Machine" and "On a Horse Called Vengeance".
Rating
- 4/5
Barclay James Harvest - Their First Album
- "Taking Some Time On" was a song I discovered while grasping for some new musical vistas and I decided to check out some prog stuff. I remember this was at the same time "Electric Worry" was out and those songs were next to each other on a playlist. This album is wimpy in places but the bonus tracks on this deluxe edition more than make up for any dis-appointment Highlights include "Taking Some Time On" and "Night".
Rating
- 4/5
Black Label Society - Stronger Than Death
- I remember when this one came out. I heard the song "Counterfeit God" on a 'Brave Words, Bloody Knuckles' compilation and I thought it was a great song. Fortunately so did a lot of my metalhead friends and so I never really had to buy the CD at the time because it was another of those ones that was just 'around'. The same went for their first album. To me they are both classics.
Black Sabbath - ST (Deluxe Expanded Edition)
- In Canada, for some reason, we have a really crappy audio quality, 5-track version of the album on CD where certain tracks are stuck together and there's no "Wicked World", so it was high time to upgrade. So of course I was going to opt for the 2 disc deluxe edition. Also comes with great liner notes and rare photos which is cool. For like 10 bucks, how can you go wrong with this set? Highlights include "come on, do I have to tell you" and "seriously, you should really know by now".
Rating
- 4/5
Blossom Toes - We Are Ever So Clean
- Not nearly as heavy or proggy as their next album, Blossom Toes debut is full of progressive and interesting ideas for a typical British psychedelic pop album from the 60s. It's highly influenced by Sgt Pepper, but it's still quite original. The album also reveals the band's sense of humor. I don't think they took themselves too seriously. Highlights include "When the Alarm Clock Rings" and "I'll be Late for Tea".
Rating
- 3.5/5
Blue Aside - The Moles of a Dying Race
- Heard about this one on
the Obelisk
, so I checked it out and liked what I heard and ordered the disc. Just listening to it for the first time as I write this. Slow, sludgy psychedelia and I like what I'm hearing. The album comprises 8 tracks, three of which form the title suite and are spread out throughout the disc. They also do a cover of "Interstellar Overdrive" for a closer!
Blue Cheer - Vincebus Eruptum
- A true monster fuzz classic, there are many out there who believe that this is the world's first heavy metal album. I'm from the 'Sabbath were the first' school, but there's no denying the power and heaviness of Blue Cheer. I'd say this is more stoner rock than metal, but that's with a great deal of hindsight. There's a lot of jamming on this album but when they find a groove they find it well. Highlights include "Out of Focus" and "Summertime Blues".
Rating
- 4/5
Blue Oyster Cult - Tyranny and Mutation
- In my possession is an old Return of the Jedi notebook from one of my uncles when they were in high school. You can tell they were metalheads because there are no class notes taken, but band logos drawn on the inside front cover. Names like AC/DC, Judas Priest, ZZ Top, etc. One of the names written was BOC with umlauts over the O. For the longest time I didn't know what that stood for. I can't believe it's taken me the better part of 30 years to discover this 70s gem of a band.
Deep Purple - In Rock
- My second favorite Deep Purple album, I actually already had this album on CD but there were no bonus tracks so I didn't have the song "Black Night" until now. "Black Night" is arguably their best song, one of the best songs of the 70s and it's only because of an insane British custom at the time of not including singles on albums that the original album didn't feature the song. Highlights include "Black Night" and "Into the Fire".
Rating
- 4.5/5
DSW - Dust Storm Warning
- The first two tracks on this album have become true highlights of the year, especially "Outrun", the opener. The band is from Italy and vocalist Wolf Lombardi's (one of the great names in stoner rock) English skills aren't very well refined, so some of the funnest times my girlfriend and I had this summer was trying to decipher the lyrics. The lyrics are printed in the booklet with excellent accompanying artwork. Man, we were way, way off. Also came with a fridge magnet! Highlights include "Outrun" and "Space Cubeship".
Rating
- 4/5
Seremonia - ST
- What's great is the liner notes have the lyrics in both Finnish and English, which is
something I touched upon in my original review
. This is the kind of album where you have to play it straight through, the individual songs don't always work on a mixed playlist because the band's so unique. Once again, a great album from a highly original band. Highlights include "Rock & Roll Maailma" and "Lusiferin Kaarmeet".
Rating
- 4.5/5
Skanska Mord - Paths to Charon
- This has been one of my favorite albums of the year, three solid months and I'm still listening to it. Each time I listen to this album a different song gets stuck in my head, as only the best albums do. This will end up as a top 10 or maybe even a top 5 album of the year. It has definitely been one of my favorite Small Stone releases of the year. It's just a solid album full of old school rock with terrific hooks. Highlights include "Lord of Space and Time" and "The Ambassadeur".
Rating
- 4.5/5

Ted Nugent - Original Album Classics (5 album box set)
- From the 'why the fuck not?' file, this sucker cost me about 12 bucks for 5 of the Nuge's first 6 albums (for some reason it doesn't have 'State of Shock'). Sure he's a gun toting bigot, but he has other good qualities as well, like the music. The CDs come in LP replica slipcase covers. I remember the Scream Dream LP tracked to my uncle's wall next to Maiden and Megadeth. Highlights include "Stranglehold" and "Cat Scratch Fever".
Thin Lizzy - ST
- Thin Lizzy was always a mixed bag of big and funky hard rock and Irish folk ballads. This album's no exception. There's enough hard rock to keep the casual listener's attention and the ballads are typical of the lyrical depth of Phil Lynott. I still have the same problem with this band that I've always had, which is that there just may be a few too many ballads. Highlights include "Ray-Gun" and "Return of the Farmer's Son".
Rating
- 3.5/5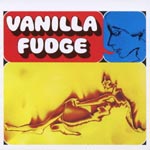 Vanilla Fudge - ST
- Unfortunately, I didn't get around to listening to this one this week and I haven't heard it in about 6 or 7 years. I remember not liking it because it was all cover songs but I wonder what my reaction will be now that I know what to expect. They took hit songs, heavied them up and slowed them down to a crawl. Not everyone's cup of meat, but this, along with Blue Cheer, is one of those must have items for the heavy metal historian. Pretty heavy for 1967.
Wo Fat - The Black Code
- Glad to have this one on disc. This album is closing in on top 25 of the year status and climbing. Every song is an absolute gem and the lyrics inside the booklet (although hard to read due to contrast) are cool to read to get the overall concept of The Black Code in one easy sitting. Like the other two Small Stone releases from this week this disc came with a Small Stone sticker. Highlights include "The Shard of Leng" and "Sleep of the Black Lotus".
Rating
- 5/5
I also got my
Steak
hat in the mail. If you haven't heard this terrific band yet, you can find them
here
. Word is they've got another EP in the works for 2013. It came with some stickers and a flyer from their UK mini-tour with Truckfighters! Dates below:
5th Dec w/Gonga at the Croft, Bristol
6th Dec w/Black Moth at the Cockpit, Leeds
7th Dec w/Desert Storm + Mother Corona at the Bullingdon Arms, Oxford
8th Dec w/Trippy Wicked at the underworld, London (Don't forget the aftershow party at the Black heart w/Black Moth)